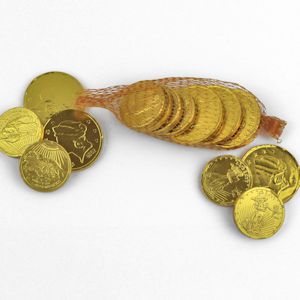 Hanukah gelt, literally translating to Hanukkah money, refers to money as well as chocolate coins wrapped in gold foil given to Jewish children during the festival of Hanukkah. You can stop by any Wockenfuss store, or order online, for bags of shiny gelt to hand out to the kids this season! What is it about this delectable coinage that continues to light up the holidays?
The History of Giving Money
The custom of giving money to children during the Hanukkah season began in seventeenth century Poland, when Jewish parents would give money to their children for distribution to their teachers. Children demanded their due and overtime money was given to them as well. During the eighteenth century, it was the custom for poor yeshiva students to visit homes of Jewish benefactors who dispensed Hanukkah money. The rabbis approved of this custom because they believed it publicized the story of the miracle of the oil, the oil that managed to light the menorah for eight days.
Gelt is also linked to the coins minted after the Maccabees' victory over the ancient Greeks. In 1958, the Bank of Israel issued commemorative coins for use as Hanukah gelt. They bore the image of the same menorah that appeared on the Maccabean coins 2,000 years ago.
But Why Chocolate?
In the twentieth century, American chocolatiers created chocolate gelt as a way to acknowledge the spirit of the holiday season. An American candy company in the 1920's produced the first chocolate gelt, wrapped in gold foil and placed in mesh pouches resembling moneybags.
Spin the Dreidel!
Dreidel is played with a "pot" of money placed in the middle of the table. While grandparents and parents offer real money on occasion, gelt is a fun (and less expensive) alternative for young children. According to a survey done within the last ten years, 74% of parents in Israel give their children Hanukkah gelt when playing dreidel.
Pick Up Your Gelt At Wockenfuss!
Whether you're looking to spin the dreidel or just spread some chocolate wealth this season, stop by a Wockenfuss store or check us out online! Our highly detailed, solid premium milk chocolate gold coins are perfect for party favors, stocking stuffers, or an intense dreidel match!
HAPPY HOLIDAYS! STOP BY A STORE OR VISIT US ONLINE
Since 1915, Wockenfuss has been a family owned and operated business creating the finest confections in Baltimore, Maryland. With our nine convenient locations throughout Maryland, there is sure to be a Wockenfuss store near you. Come visit us to see our selection of winter favorites such as Christmas Lollipops and Gourmet Truffles.
We'd be happy to help you select the perfect sweet treat, whether for you or as a gift for a loved one. If you have any questions about our sweet seasonal candies, please contact Wockenfuss Candies by calling us at 1-800-296-4414 or emailing info@Wockenfusscandies.com. When you're not savoring our sweets, stay satisfied by following us on Facebook, Twitter, Google+, and Pinterest too!