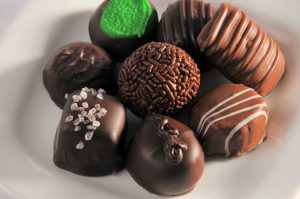 On February 14, love arrives in many forms. It comes with a kiss, a bouquet of flowers, or chocolates contained in the shape of a particular muscular organ. Valentine's Day is widely recognized as one of the biggest commercial days in the year: unlike Christmas, though, there is a particular expectation of gifts to be purchased and received. So what is it about chocolate and Valentine's Day? Why does the chocolate-giving ritual continue?
Forget Oysters
Chocolates are thought to be an aphrodisiac, as they stimulate endorphins and other natural chemicals that make you happy. A delicacy that looks, smells and tastes delicious, chocolate entices the senses and creates a moment of pure joy.
The Joy of Giving
Valentine's Day is a holiday based on true love, rather than selfish desires. The giving of chocolate represents the joy of making your sweetheart happy. A box of chocolate truffles is a small but beautiful gesture to show how much one cares. Everyone loves chocolate, right?
The Psychological Effects
Due to the many health benefits of dark chocolate, the treat has been associated with vitality. Debra Zellner, a professor of psychology at Montclair State University in New Jersey, has been leading research for many years into food cravings. She suggests that the chemicals found in chocolate are not sufficient quantities to account for the pleasure experienced after consuming it. Rather, Professor Zellner believes that the joy we experience from chocolate comes from our natural desires to consume and thrive.
No Matter What
Whether you're purchasing chocolate to set the mood or to satisfy your hunger, no one can argue that it's a delicious way to celebrate the holiday. Visit a Wockenfuss location, or check out our website, for the best local chocolates that Maryland has to offer!
CELEBRATE VALENTINE'S DAY WITH WOCKENFUSS
Since 1915, Wockenfuss has been a family owned and operated business creating the finest confections in Baltimore, Maryland. With our nine convenient locations throughout Maryland, there is sure to be a Wockenfuss store near you. Come visit us to see our selection of winter favorites such as our Valentine Chocolates and Gourmet Truffles.
We'd be happy to help you select the perfect sweet treat, whether for you or as a gift for a loved one. If you have any questions about our sweet seasonal candies, please contact Wockenfuss Candies by calling us at 1-800-296-4414 or emailing info@Wockenfusscandies.com. When you're not savoring our sweets, stay satisfied by following us on Facebook, Twitter, Google+, and Pinterest too!